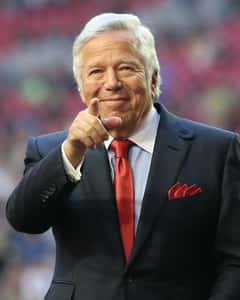 Robert Kraft is the founder, chairman and CEO of the Kraft Group, based in Foxborough, Mass. The Kraft Group is the holding company of the Kraft family's many businesses, including the six-time Super Bowl Champion New England Patriots, the New England Revolution, Boston Uprising, Gillette Stadium, Patriot Place, International Forest Products, Rand-Whitney Group, Rand-Whitney Containerboard and a portfolio of more than 100 private equity investments.
Kraft began his business career with the Rand-Whitney Group, Inc. of Worcester, Mass. In 1972, he founded International Forest Products (IFP), a trader of paper commodities that now does business in more than 100 countries. IFP has consistently ranked among the top-10 exporters in North America, finishing fifth in the latest annual rankings published by The Journal of Commerce.
Kraft is widely recognized as one of the most successful owners in professional sports. In his 26 years of ownership (1994-2019), the Patriots recorded the highest winning percentage (.700) of any team among the nation's five major professional sports leagues (NFL, MLB, MLS, NBA, NHL). Since 1994, the Patriots have won more games (324), playoff games (33), division titles (19), conference titles (10) and Super Bowl championships (6) than any other team in the NFL. Kraft also built a privately-financed, world-class sports and entertainment complex with the construction of Gillette Stadium and Patriot Place. Gillette Stadium is one of the only modern stadiums built without personal seat licenses, saving season ticket members tens of thousands of dollars.
A native of Brookline, Mass., Kraft attended public schools before earning an academic scholarship to Columbia University. Upon graduation, he received a fellowship to Harvard Business School. He is a distinguished trustee of the Dana-Farber Cancer Institute, where he established the Robert K. Kraft Blood Donor Center. He is on the board of directors for Apollo Global Management, the Massachusetts Competitive Partnership, the Apollo Theatre and The Engine, which supports startup companies working on scientific and technological innovation. A trustee emeritus at Columbia and a former trustee of Boston College and Carnegie Hall, Kraft has also received honorary degrees from several colleges and universities.
Over the past five decades, the Kraft family has been one of New England's most philanthropic families, donating hundreds of millions of dollars in support of local charities, civic affairs and health care. The Kraft family donated $25 million to Mass General Brigham and its affiliate, Massachusetts General Hospital, to establish the Kraft Center for Community Health, an initiative designed to develop solutions for the most difficult health problems. The Kraft Center services include a mobile health program with a medically-equipped van, which offers opioid addiction treatments and other health care services in underserved communities throughout greater Boston. The Kraft family also committed $20 million to Harvard Business School to establish the Kraft Precision Medicine Accelerator, an initiative to pursue programs to realize the potential of precision medicine in care of cancer and other serious diseases.
Kraft is driven by a passion to help vulnerable populations receive equal footing and unchallenged access to opportunity. Years ago, Kraft created a monthly catalyst gift in which he donates surprise funding to small, local nonprofits whose work focuses on social equality initiatives. In 2019, Kraft became a founding partner in creating the REFORM Alliance, a foundation whose mission is to reform the American criminal justice system by using their resources to change laws and policies to dramatically reduce the volume of long-term incarcerations due to minor probation and parole violations. Last year, Kraft was named the 2019 Genesis Prize Laureate, referred to as the "Jewish Nobel" by Time magazine, and launched the Foundation to Combat Antisemitism with his own $20 million commitment. The foundation's objective is to creatively combat the rampant antisemitism seen throughout the digital world, particularly targeting young people, by leveraging social media to deliver educational campaigns and spur personal action. By effectively combatting the rise of antisemitism, notably online and through social media, the long-term goals of the foundation include creating a replicable model for fighting other forms of prejudice, racism and hate crimes.